All month long, Lazy Smurf is trying out the recipes in Sunny Days in Texas, the fundraising zine for Sunny Day Farms. The zine is helping out all the animals at Sunny Day, who are struggling because of Texas's long, dry summer.
So far, Lazy Smurf is liking all the recipes, but to find out the real scoop let's ask the experts.
Millie was pleased to hear about the Chickpea "Tuna" Salad recipe. In her best used-car salescat manner, she says, "Four paws up!"
After thoroughly sniffing to check for stray bugs or treats, Desmond reluctantly approves. "Maybe you'll be more lucky," he says with a sigh.
Baby says, "Buy the zine. Or else!"
Milo says, "When it comes to greens well I'm a fiend. I like my kale with nutritional yeast."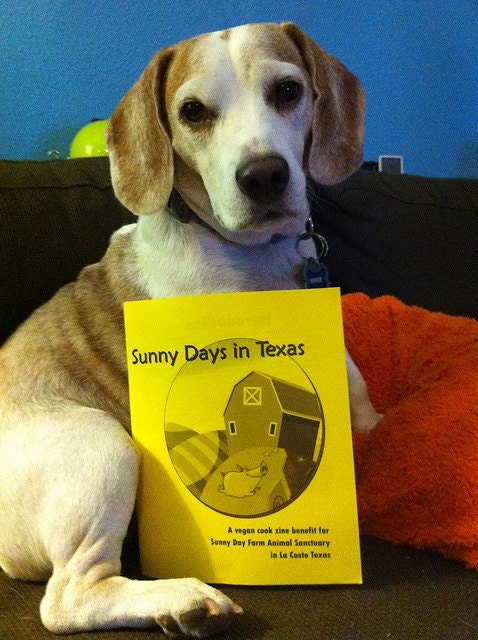 Dinger likes the zine, especially all the bits his mom drops on the floor while she's cooking from it. "Twenty minute rule!"
Willow likes the zine, but she thinks Dinger gets more than his fair share of the floor food. "Ever since Mom got the locking fridge, it just hasn't been the same around here."
Trixie does NOT like the zine. "Did you know there are onions and garlic in half of those recipes? What kind of zine to 'help the animals' is it, if kitties can't even eat the food?"
Sky says, "Of course, the zine is great. But do you see how empty my bowl is right now?Won't someone please think of the kitties and make me a bowl of King Ranch Casserole? Minus the icky onions, please!"
We received more photos than I could fit into one post. For more photos of animals with Sunny Days in Texas, check out this thread at the PPK. And if you've taken a photo of your animal friend with the zine, leave a link in the comments. If you still haven't bought a copy of Sunny Days for your cat or dog, there are links on the right of the page to both color and b&w versions. And remember, all the profits go directly to Sunny Day Farms.