Navigating the menu at restaurants can be a little tricky for vegans. While I'm spoiled for choices here in Austin, there are lots of restaurants where I can get an OK meal. Something that will fill my tummy. But there's the other part of hunger, the part that isn't satisfied by a plain salad with no dressing or by dry toast and black coffee. So many vegan restaurant meals need just a little something extra before they can be really satisfying. Until the day that every restaurant kitchen stocks Vegenaise and vegan pesto, I'll just have to bring my own.
I've been sneaking in bits and bobs of soy creamer and salad dressing for years, but it leaves me feeling like that stereotypical little old lady smuggling rolls out in a napkin, except in reverse. So I've been looking for a more elegant solution for awhile now. And with the makeover SoyGo coffee creamer got recently, my elegant solution is ready.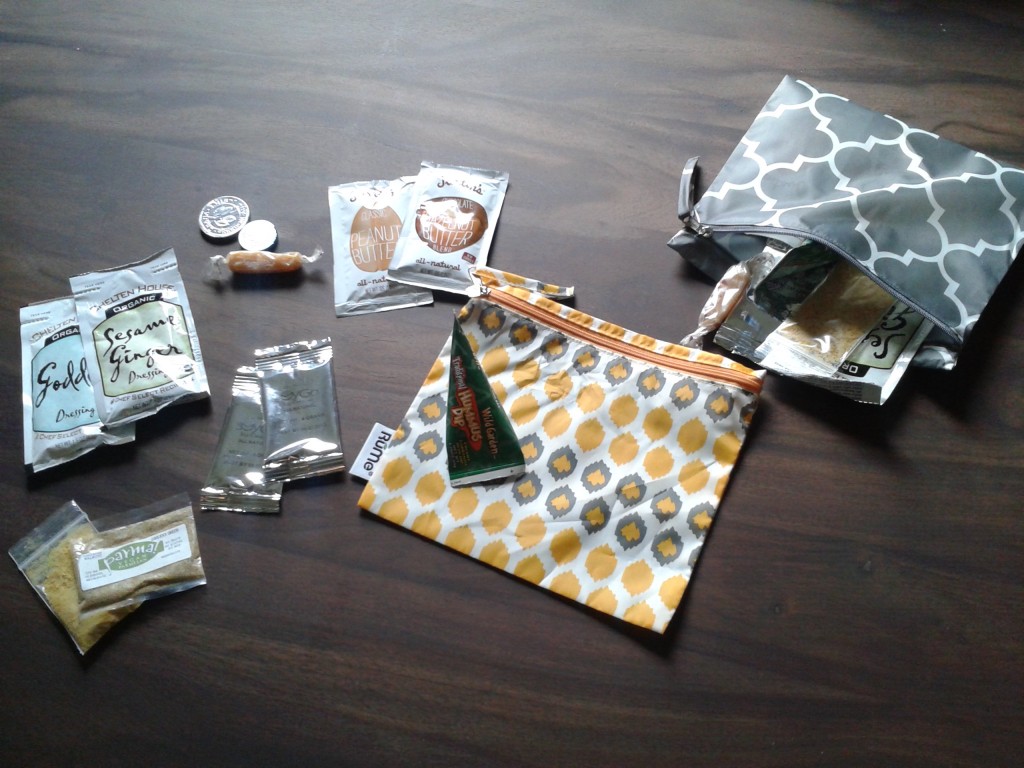 Here's my little bag of vegan tricks and how I use it. Starting at top left there's salad dressing (Goddess and Sesame Ginger), chocolate coins and a Cocomel caramel, Justin's peanut butter and chocolate hazelnut butter, Wild Garden shelf stable hummus, SoyGo coffee creamer, a sample of Parma and a baggie of nutritional yeast. You can find individual packets of vegan salad dressings at camping supply stores or buy large (and somewhat expensive) boxes at Amazon. I got my SoyGo from Rabbit Food Grocery, though most vegan specialty stores carry it. The Parma was a sample and I've also included a little baggie of nooch since my Parma samples won't last forever.
Now my salads have dressing, my toast has peanut butter ( or hazelnut butter depending on how decadent I'm feeling), my veggie sandwich and bagels have hummus, my coffee isn't black, and my pasta primavera or marinara gets an extra zing from a bit of Parma. And I won't envy anyone's Death by Chocolate so long as I've got a Cocomel and some really good chocolate in my purse. The one thing my little bag is still missing is shelf stable packets of Vegenaise. For now, hummus will have to fill that spot.
I think I'm even ready to hit up that Applebees in rural Arkansas that served me this:
That's right, I enjoyed microwaved Lipton in a plastic glass with a straw. It added just the right touch to my Oriental Chicken Salad (without the chicken, salad dressing, and fried noodles).
I'm giving away one Vegan Bag of Tricks (including the RuMe resusable bag). To enter, tell me about the worst vegan meal you've been served at a restaurant. Giveaway open to U.S. residents only. It ends at noon on Monday, March 4.