Here's the second post in our Meet a Vegan Texan series. Sergio hails from DFW, and he has a pretty positive attitude about being vegan in Cow Town. I want to steal his awesome friend and a plate of veganchiladas, too.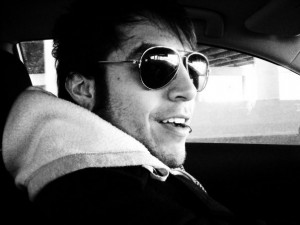 First name and city/region: Sergio, hailing from Dallas/Fort Worth
Why are you vegan? I went vegan mainly for ethical and environmental reasons. I've almost always had some kind of pet (the most at once was two dogs, three guinea pigs, and a betta!) and always treated them like members of my family. As far as dogs go, I always adopt from either a shelter or a rescue association. It's safe to say I really care for our four-legged and finned friends. And I'm a green nut as well. I'm constantly picking through the trash at my work's break room for discarded bottles and try to walk wherever I can so it just made sense that I follow a diet that in more in line with those beliefs.
How long have you been vegan? I went vegan at some point in April 2008. I don't remember exactly when because it was kind of a spur of the moment type thing. I was mulling going vegetarian (I went veg for a couple of years before) again and then up and decided to go straight vegan.
What's it like to be vegan where you live? I get a lot of weird looks. A lot of people ask if it's some type of diet or religious thing. I can't tell you how many times I've heard, "I couldn't live without cheese!" I'm lucky in that I've got a handful of all-vegan restaurants in the area but comparing here and a place like Austin is night and day. I went to a wedding in Austin recently and my father-in-law went to a pizza place and told them he needed a vegan pizza and they knew exactly what to make. I got a pizza here the other day and ordered it without cheese and when I picked it out, the employee commented how that was unusual. I mean, when you live near a city that's nicknamed "Cow Town," everyone sort of expects everyone else to eat meat.
What's your favorite resource for finding vegan food? Your favorite vegan restaurant dish? I go to vegweb.com a lot but I usually get my recipes from a good friend who has been vegan for nearly a decade now. He's a much better cook than me so I usually just poach from him. As far as favorite dish, it'd have to be either the Mitch Tofu from Spiral Diner or the now discontinued Blazin' Noodles with tofu and veggies from Pei Wei.
What's your favorite vegan Texan food? Well, this is technically Tex-Mex I guess but I make the dopest veganchiladas. I made them from scratch one day using a recipe I found online as a loose guide and they ended up incredible. My friend who is a staunch meat-eater had them and texted me the next day and said, "Man, I could really go for some of your hippie enchiladas."
Do you have a secret vegan weapon? Laser vision? Kale? A larabar in your pocket? I would have to say nutritional yeast. It adds so much to a wide variety of recipes, I couldn't imagine having a kitchen with a supply of that delicious yellow powder.
If you could only choose one, would it be tofu, tempeh, seitan, or beans? Oh, man, that's tough. Seitan is out simply because I don't eat a lot of it to begin with. Then tempeh even though there is an excellent tempeh/Frank's Red Hot sandwich recipe I found online that is an amazing picnic food. I'm trying to cut back on the tofu to limit my soy intake but man, I have gotten good at cooking it. But I couldn't live without beans. Black beans are so versatile. Plus I could still eat burritos which are definitely my favorite food.
What advice do you have for people in your area about being vegan? The best advice I ever got about being vegan was from the aforementioned friend. I was a few months into it and I was craving something meaty I'm sure and called him for support. He said, "Don't think about what you can't eat. Think about all the awesome stuff you CAN eat." Sage advice, really. DFW-specifically, there is Spiral Diner and Loving Hut plus a ton of awesome Thai restaurants. A little bit of legwork goes a long way in figuring out where you can eat. Of course, if you're all thumbs in the kitchen like me, a cooking class would be a good move.
If you'd like to answer the Meet a Vegan Texan questionnaire, send me an email at lonestarplate (at) gmail (dot) com.