The Wet Whistle is having a one year anniversary party this weekend, which means it's time for a follow up to my preview a year ago. I almost don't want to write this. Right now, it feels like the Wet Whistle is my own private food paradise. But it's not right to keep such a great place a secret.
If you don't spend much time near Chicon and MLK in Austin, you may not even know what Wet Whistle is. It's a small convenience store that's been stripped of all the corporatization and sameness of your neighborhood 7/11. Instead, you'll find local and alternative specialty foods in an arty, DIY setting that fits right in with the East Austin vibe.
Looking at the range of goods on their shelves, it's obvious the folks at Wet Whistle have gone out of their way to accommodate vegans. The small convenience store has two cases of prepared food, and they're stuffed with vegan options, including
Vegan Nom tacos
Counter Culture kale salad and macaroni and cheese
Happy Vegan Baker macaroni and cheese and shepherd's pie
Tom's Tabooley salads and wraps
Grandma's hummus
Green Cart wraps
Tam's Deli veggie bahn mi (usually vegan, but ask about mayo)
various bean curries and dips
You won't find all of these there at once, as they arrive fresh a few times a week and eventually sell out. But a large percentage of their options are vegan at any given time.
The bakery counter is also stocked with vegan baked goods from Red Rabbit Cooperative, Sugar Circus (Sugar Tooth Bakery), Sugar Mama Bake Shop, and others. You'll find cupcakes, cookies, donuts, muffins, and loaves of bread. Many of the baked goods are gluten free as well.
If you're looking for a beverages, they have kombucha; beer and wine; natural colas; fresh iced teas, coffees, and fruit beverages; and coconut waters. What you won't find is the usual Coke and Pepsi that crowd most convenience stores.
They also stock staples like fresh produce, soy milk, vegan cheese, tofu, tempeh, pasta, and crackers.
Beyond the food, the service is excellent. Like much of Austin service, it's not effusive. They won't shout "hello" at you when you come in the store. But I always have great interactions at the checkout, and they've stocked numerous things I suggested.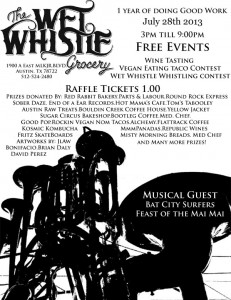 Wet Whistle is celebrating their
one year anniversary
with a big party on Sunday, July 28, from 3 to 9 PM. There will be music, a raffle, wine and hummus, a whistling contest, and a
vegan taco eating contest
. That's right! Test yourself against competitors to see who can eat a set number of tacos the fastest. I eat a lot of Vegan Nom tacos, and finally all that practice will do me some good.