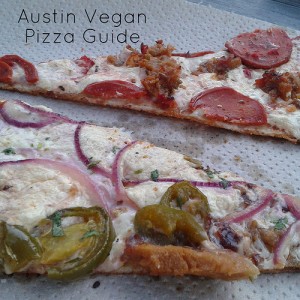 Vegan Pizza Day is this Saturday. If you're having trouble picking a slice in Austin, here's a guide to the best vegan pizzas in Austin. (Not in Austin? Check out this post about vegan pizza in Texas.)
Note: This list is regularly updated.
Austin's Pizza
Vegan cheese: Follow Your Heart Vegan Cheese
Recommended pie: Mediterranean (minus the feta) because kalamata olives
Tip: Avoid the online ordering system. For whatever reason, calling gets more accurate results
Bistro Vonish
Vegan cheese: homemade!
Recommended pie: Whatever is on special
Tip: This cart is entirely vegan. As with all carts, check social media for accurate hours.
Brick Oven on 35th 
Vegan topping: chipotle pesto, no extra charge
Recommended pie: Spicy Vegan, a personal sized pizza with chipotle pesto, tomatoes, red bell pepper, onions, and jalapenos
Tip: Be aware, this is an entirely different restaurant than Brick Oven. (Bonus tip, you can get the chipotle pesto on pasta as well. Just ask for no cream.)
Conan's Pizza
Vegan cheese: Daiya, counts as double topping
Recommended pie: Don't Choke Art, spinach, sliced tomato, artichoke heart, garlic
Tip: Both the deep dish and thin-style crusts are vegan now
Counter Culture
Vegan cheese: homemade!
Recommended pie: Whatever is on special
Tip: Gluten-free pizza available
East Side Pies
Vegan cheese: Daiya, $2/14-inch pie, $4/18-inch pie
Recommended pie: Sharon's Pie with spinach curry sauce, broccoli, and red potatoes
Tip: They make thin-crust pizza, so you may want to order a bit more than usual. Take advantage of their unusual pizza sauces, including hummus and curry sauce.
Flaming Pizza
Vegan cheese: Daiya, $1 extra
Recommended pie: Eater's choice. Choose your own toppings.
Tip: Like Mi Pizza and Mod Pizza, you can have unlimited toppings for no extra charge
Hoboken Pie
Vegan cheese: Daiya and tofu ricotta, $3 extra for any size
Recommended pie: Any pie with fruit (pineapple, pear, or misison fig)
Tip: They also have seitan and occasional vegan specials. (Bonus tip:The garlic knots can be made vegan.)
House Pizzeria
Vegan topping: Not actually cheese, but the eggplant tapenade is a wonderful topping made of eggplant, lemon, tomato and onion
Recommended pie: Eggplant, no parm. In addition to the tapenade, this pizza has capers and kalamata olives.
Tip: Start your meal with roasted olives or cannellini bean spread.
Marye's Gourmet Pizza
Vegan cheese: Daiya, unknown extra charge
Recommended pie: sun-dried tomato, red onion, rosemary, and garlic
Mellow Mushroom
Vegan cheese: Daiya, $1.49-3.29, based on pizza size
Recommended pie: Tempeh (because where else can you get tempeh on a pizza?), onions, and bell peppers.
Tip: Remind your waiter, "No butter or parmesan on the crust."
[Guadalupe location closed]

Mi Pizza
Vegan cheese: Daiya, $1 extra
Recommended pie: build your own personal pie with as many toppings as you like for only $6.99.
[closed]
Mod Pizza
Vegan cheese: Daiya, no extra charge
Recommended pie: Garlic rub with arugula.
Tip: Red sauce is not vegan. They're working on a new recipe. In the meantime, get BBQ sauce or garlic rub as your base.

North Door Pizza
Vegan cheese: Daiya, $3 extra
Recommended pie: Green and black olives (in honor of Lazy Smurf, who recommended this place and loves olives)
Tip: North Door Pizza only serves pizza during events at North Door.
The Parlor
Vegan cheese: Follow Your Heart, $3.50-5.50 extra, depending on the pizza size
Recommended pie: Any pie with their homemade vegan meats (pepperoni, sausage, chicken). The meats aren't always available. If they have all three and you can get a vegan meat lover's pie, it's like you've won the lottery.
Tip: If there's no vegan meat, try a vegan French bread pizza with broccoli. Trust me.
Promise  Pizza
Vegan cheese: Daiya, no extra charge
Recommended pie: Nature's Choice, a pizza loaded up with all the veggies
Tip: Stretch the definition of pizza and try a Vegan's Choice calzone
Rockin' Tomato
Vegan cheese: Daiya, $1.50/10-inch, $2.75/14-inch or 18-inch
Recommended pie: Farmers Market
Sagra
Vegan cheese: Homemade nut cheese, no extra charge. They sometimes substitute Daiya if they run out of the homemade cheese.
Recommended pie: Calabrese vesuvio. Named after Mount Vesuvius, the pizza comes flopped over on itself.
Tip: Walk your waiter through the definition of vegan when you order. They're really flexible about adapting many of their dishes, but it means they get a bit confused sometimes.
Sauced
Vegan cheese: A blend of mozzarella and cheddar Daiya
Recommended pie: Veggie meat and basil
Tip: Wednesday and Saturday you can order vegan pizza by the slice. The rest of the week, you'll have to order an entire pizza.
[Closed]

Spartan Pizza
Vegan cheese: Galaxy Foods vegan rice cheeseDaiya, $2.5/10-inch or $4.50/14-inch
Recommended pie: The Athena, with roasted garlic olive oil, fresh spinach, red onion, mushroom, whole roasted garlic cloves
Tip: The tomato sauce, the roasted garlic spread, and roasted garlic olive oil sauce are all vegan.
Uncle Maddio's Pizza Joint
Vegan cheese: Daiya
Recommended pie: It's build your own, so it's up to you.
Tip: They list all of their vegan ingredients online.
Via 313
Vegan cheese:  Follow Your Heart, $2 extra
Recommended pie: They serve Detroit-style pizza, which mean deep dish, cooked in a square cast iron, with a strip of tomato sauce on top rather than under the toppings.
Tip: Try a Vernor's Ginger Ale, a Michigan classic. The ginger is so spicy, the first sip makes you cough.
Wheatsville Coop
Vegan cheese: Daiya, cheese price incorporated into the price of the pizza
Recommended pie: Popcorn tofu pizza. They've added everyone's favorite sandwich topping to their pizza. Pick up a ready-made pizza in the refrigerated case and cook it yourself at home.
Tip: Occasionally, pizza-by-the-slice is offered at the deli counter.
Whole Foods
Vegan cheese: Cheddar or mozzarella Daiya, $1 extra/pie. As far as I know, this is the only place in town that offers cheddar (or as the last employee I talked to called it, yellow) vegan cheese.
Recommended pie: Red, green, and yellow bell peppers for a really colorful pie
Tip: Thursday is $10 pizza night, the best deal in town
ZPizza
Vegan cheese: Daiya, $1.35-2.25 extra/pie, depending on size
Recommended pie: The Berkley Vegan, with (Gardein) veggie crumbles, zucchini, tomatoes, mushrooms, red onion, bell pepper
Tip: Their gluten-free crust is vegan. See the FAQ section for a vegan menu.
Updated 3/3/16